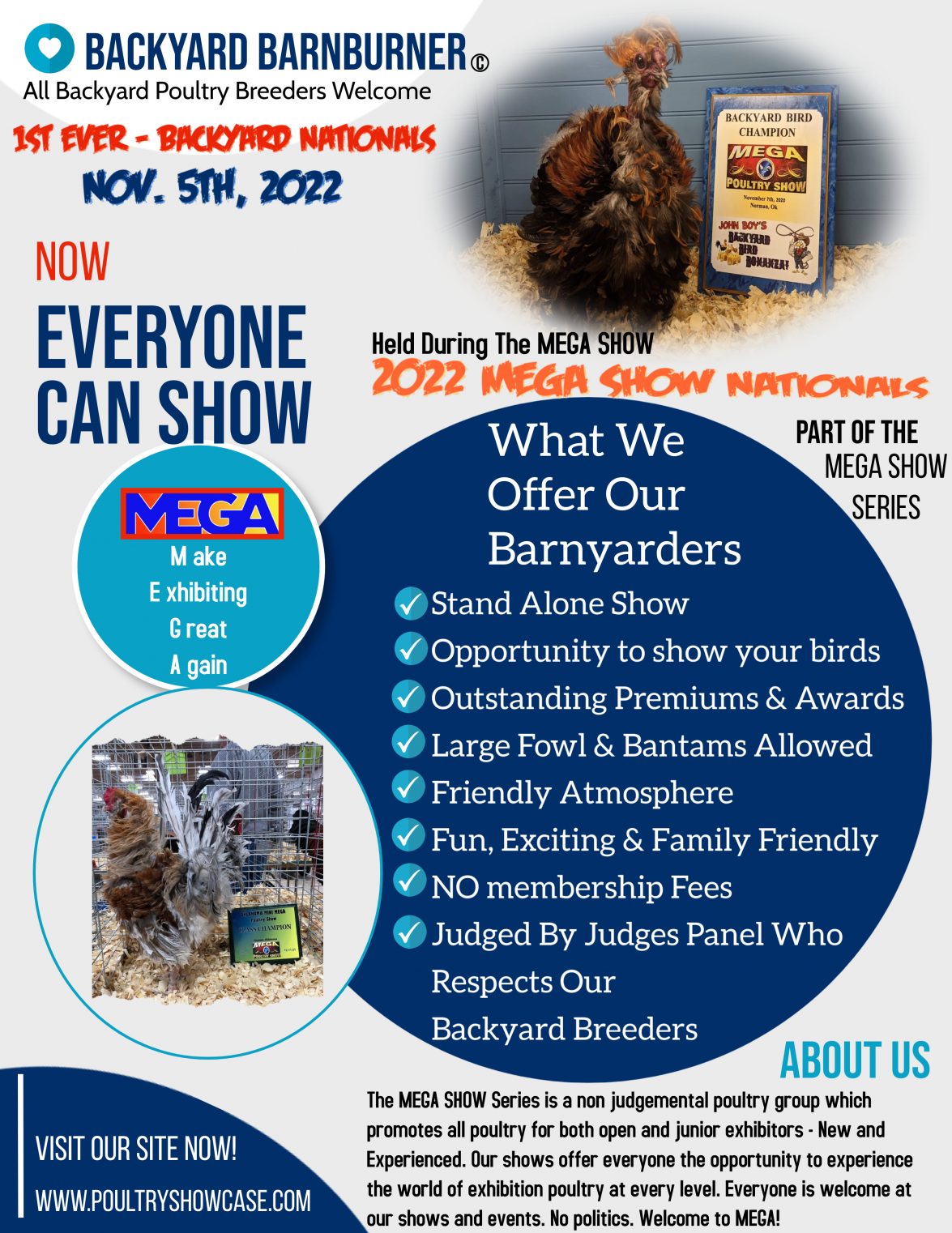 Scale of Points – Judging Backyard Birds
| | | | | | |
| --- | --- | --- | --- | --- | --- |
| Criteria | Shape | Condition | Color | Over All Uniqueness | Total Points |
| Comb | 3 | | 3 | 3 | 9 |
| Face & Eyes | | | 2 | 2 | 4 |
| Wings | 2 | 2 | 2 | 2 | 8 |
| Body Over All Color | 2 | 4 | 4 | 5 | 15 |
| Tail | 2 | 2 | 2 | 5 | 11 |
| Legs – Toes | 2 | 2 | 2 | 2 | 8 |
| Over All Judges Appeal | 5 | 5 | 10 | 15 | 35 |
| General Health | | 10 | | | 10 |
| | | | | | |
| Total Points | | | | | 100 |
The purpose of the MEGA Backyard Show is to spotlight true Backyard Birds and highlight them for their uniqueness, color, demeanor and over all eye appeal to the observer. Backyard birds should possess over-all eye appeal to the observer along with uniqueness and bring pleasure to the owner.
Our Backyard Judges will be people who are also Backyard Breeders and who enjoy the true pleasure that Backyard Birds bring to their owners.
Exhibition Poultry Under the MEGA Banner  Is Unique. We support All Poultry and Breeders from Serama, Large Fowl, Bantams, Waterfowl to Backyard Birds and Backyard Breeders who are at all levels, Novice, Experienced to Advanced Poultry enthusiasts. 2022 will be our 4th year of promoting Backyard Birds. Please consider joining us and becoming MEGA supporters as we support you and all poultry at all levels.
The MEGA SHOW and the Canadian Valley Poultry Club totally support the Backyard Breeders of America and support them and their birds. Although our main focus has been and will be Exhibition Poultry we realize that most exhibition poultry breeders and exhibitors started out with backyard birds and still maintain many in our flocks.