This page is being added to weekly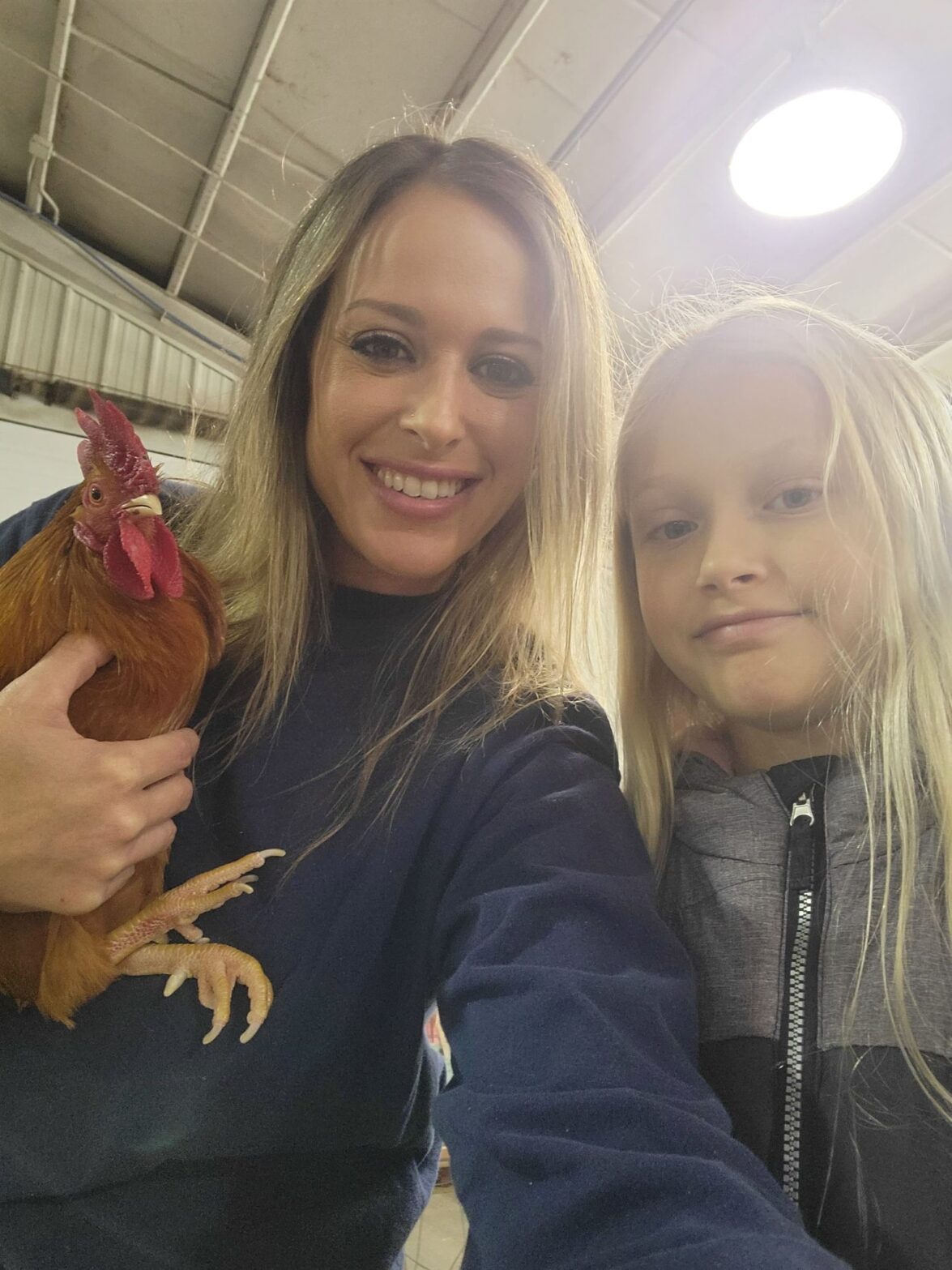 Hello fellow poultry enthusiasts! My name is Tarah Payne. I have owned poultry since 2010. 2023 marks my 5th season of showing. I sometimes look back and wonder how I managed to do it. This hobby takes a lot of work, dedication, planning along with blood, sweat and tears. During the last 5 years, I've noticed the women in this hobby silently working just as hard if not harder. Not just with exhibition but behind the scenes putting on some of the best poultry shows across America. This will be the spot where I get to highlight those hard working women. I am honored to do so. I will also be spotlighting youth that have worked just as hard in their short poultry careers. They are the future of this wonderful hobby !  Upcoming feature stories are listed below. Tarah
About Tarah :
Tarah Payne is from Iowa. She has a top line of Marans and New Hampshire Bantams. Tarah and her two daughters are active in poultry shows ranging from IA, IN, WI and the MEGA SHOW. Tarah is also Assistant Show Manager of the MEGA SHOW and she is also a member and District Director of the Marans Chicken Club USA. She was also the highest point setter for the Marans Chicken Club Club USA for 2022. The rankings are listed here.
Tarah is actively recruiting Outstanding Women in the Exhibition World who are making their mark in the Exhibition World. She will also be doing articles on the Youth of Exhibition Poultry, ect… If any outstanding ladies would like an article done and their story told, contact Tarah directly. This is her page.
Contact Tarah on FB at https://www.facebook.com/tarah.payne.5, or at Midwest Marans at https://www.facebook.com/Midwest-Marans-105477441009824
More Upcoming Feature Interviews Coming Soon – (Invitations are being sent out at this time)
Coming Soon – Keira Dawn- OK, plus MANY others.
Current Interviews
Diana (Rieber) Dahir – IA
Sue Dobson – OK
Pam Sebo – AR
Cindy Rusk – MO
Mia Beaulieu – CT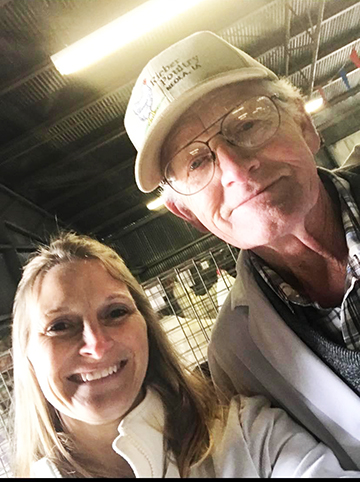 Diana Dahir and father Art Rieber – 1st Father Daughter Judging Duo
Greetings my fellow poultry enthusiasts. My name is Diana Dahir from Minden, Iowa.
Have you ever wondered how a young lady gets her start as a poultry judge? Well, here is my
story to share. I was born and raised in Iowa and live there today. My Dad, Art Rieber and I
became the first father-daughter judging duo in 2010. My Dad was the reason that I chose to
pursue my licenses. As the oldest of 4 siblings, I wanted my Dad to see a child of his follow in
his footsteps. Poultry has been his life long passion. Having grown up attending shows with my
Dad, raising my own birds and running a poultry show for 20 years, I had done just what my
Dad desired, to have someone follow his lead. One of the best decisions I have ever made. My
Dad asked me in 1997 to be the United Poultry Fanciers show secretary. It was a new Iowa
Poultry Club that Judy McAlexander and her family, Bob and Dee Mejstrick and my Dad had
started in Avoca, Iowa. This was the greatest training a girl could ask for. I met exhibitors and
judges on a new level. I learned the ins and outs of hosting a poultry show. My Dad taught me
integrity and fairness, led by his example. Then with the help of some of the best judges in the
country like Jim Sallee of CA, Bart Pals of IA and Gary Overton of IN, I grew more
knowledgeable and confident while preparing to get my licenses.
I received my license from the
APA in 2010 and the ABA in 2016 making me a dual license judge. After I judged my first show
in 2010, I was hooked. I have judged in over 25 different states and have had the honor of being
asked to judge several national meets for specific breed clubs.
When I am not judging, you can find me at Tri-Center High School in Neola, Iowa. I am a
high school librarian and substitute teacher. I assistant coach boys high school soccer and cross
country. I am a mother of 5 of the most amazing human beings, Emma 24, Lily 22, Annie 20,
Christian 17, and Nicholas 15. I am also the superintendent of the Iowa State Fair open class
poultry show. I judge several county fairs in the summer and love to inspire 4-hers to learn and
dream bigger with birds. I raise a variety of birds at home. I have a small flock of ducks, Chinese
geese, guineas and a variety of bantam and large fowl birds. I have always had children in 4-H
and it has always been a driving force for myself. I was a 9 year member of the same club in
which my children attend today and feel this is one of the best ways to balance out a childhood
by giving positive experiences and learning responsibilities.
One of my greatest pieces of advice I can give, is to raise a variety of breeds just to get
familiar with them, it also helps you develop a better eye in the show hall later. I enjoy
conversing, answering questions, sharing views and hearing from others too. I feel we grow as
judges and as people by communicating well with one another. A quote by Kevin James Breaux
says it well, " if we are not learning then we are not living." It has been easy to love judging
poultry and I have greatly appreciated the opportunity to do so. My greatest takeaway from
judging poultry is the relationships I have built on the path that I have chosen. I love to invest in
others and am so thankful for those who have invested in me with guidance, judging jobs and
friendships.
I owe so much praise and thanks to many other loyal friends, exhibitors and judges that I
haven't mentioned but who helped set up shows, clerked for me, and judged with me. Each
experience makes a difference and I appreciate the efforts of many to make it happen.
Thank you Judy McAlexander for nominating me, you were very kind to do so.
Sue Dobson – Oklahoma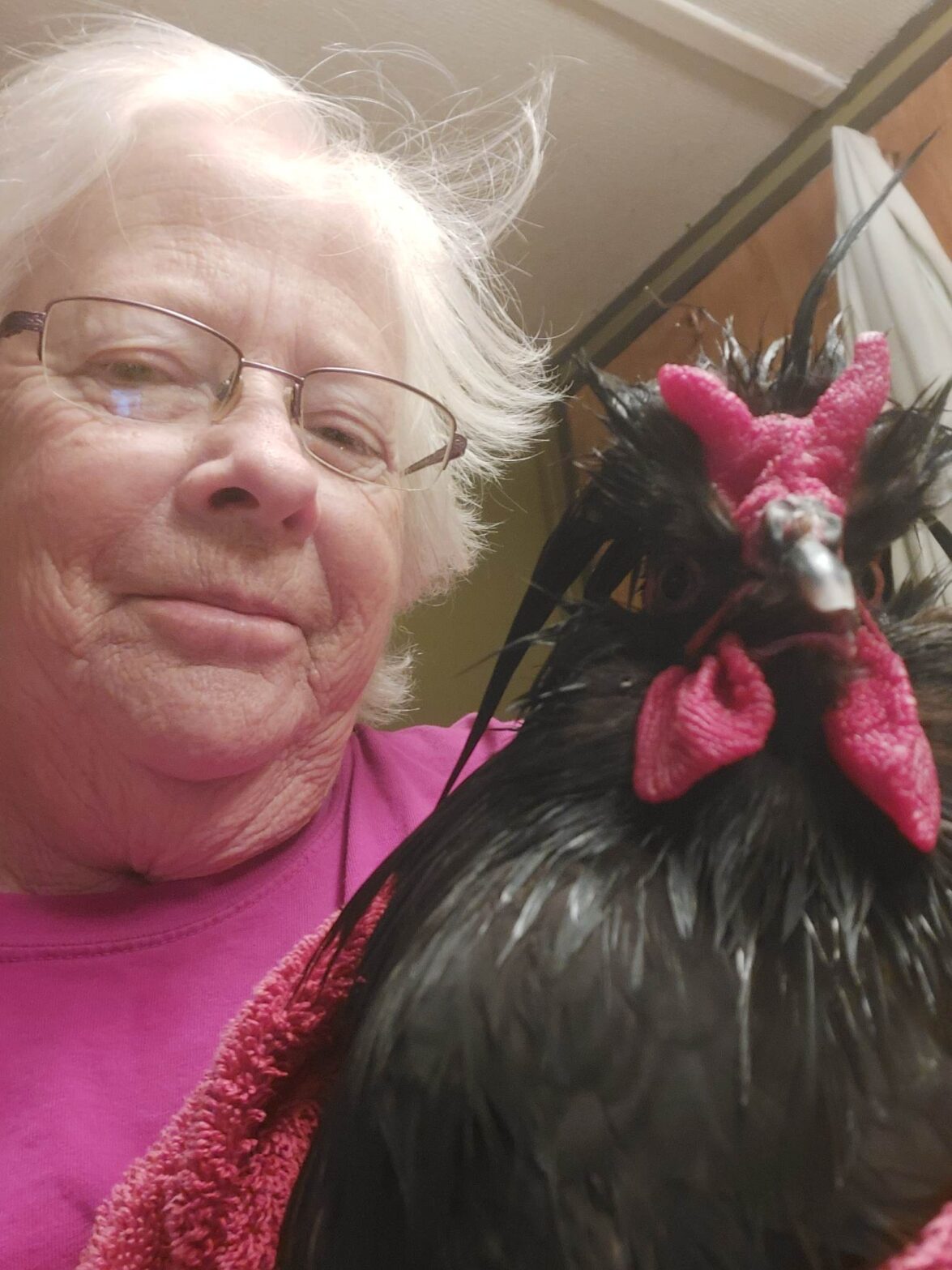 Perusing the internet one afternoon came across an ad for the Livestock Conservancy. I clicked onto their web page and began reading. I had no idea that animals were endangered on becoming extinct. As i read more, I realized chickens were a huge part of the list. Pondering for awhile, i thought, well, i could do something, pick a breed and help get it off the endangered list. after all , I thought, I had backyard chickens. So I began looking through all the different breeds listed on the critically endangered list. i was enamored with the Crevecoeur. Reading this birds history, i became determined, this was the bird for me! I was able to research the Livestock Conservancy breeders list and found a breeder close enough to me to get stock. After a series of emails, I obtained 12 baby chicks, driving 5 hours each direction to fetch them home. And so began my journey with the Crevecoeur.
My first show was Tulsa State Fair in2018. Didn't win anything, but did enjoy all the comments from the general public and answering questions about the birds. As time went on, I studied and read a lot of literature on raising birds, showing, nutrition and housing. As I attended more shows and spoke to other breeders , I learned about feather condition, feather thickness , and all sorts of things to look at to pick out a good bird. Then an opportunity landed in my lap. I was able to obtain a full French cock bird, Bruno. He was massive. Eight and half pounds in comparison to my two cock birds at home, that maybe weighed 5 and half pounds. I put him over every female bird i had and soon the difference was evident. The Standard of Perfection wants these birds at 8 lbs for males, 6 lbs for females. I was beginning to hit that mark. I showed one of Brunos' daughters at Tulsa State Fair in 2019 and won Reserve Champion continental. My heart sang! And a pullet that I had gifted a 4 H girl won Champion continental in the Junior class. what a great weekend that was. Soon I had people calling wanting eggs. I developed a farm page on facebook to further advertise my beautiful birds and get others interested. Soon I was shipping hatching eggs to California, Oregon, Utah,Minnesota and Conneticut. The icing on the cake came in 2021 at Knoxville Tennessee, the Dixie Classic Poultry show, where I won Champion Continental and then went on to win Champion Large Fowl. I thought I would faint. Through tenacity and hard work, reading and studying and learning all I could about poultry and the Crevecoeur breed, I finally was making a difference . I set out, not to win shows, but to get people interested in the most magnificent bird ( I think ) ever! What is not to love watching a glistening black bird stride across a green yard, his feathery tail waving in the breeze! I had hoped to make a mark in the life of the breed and as long as I am able will continue to promote and show and talk to anyone I can how wonderful a bird the Crevecoeur really is!
Pam Sebo – Arkansas
My work schedule is crazy. I work out of state a lot. I live in Arkansas. I started with poultry 9 years ago. I had 15 chicks and 2 ducklings.
As they grew I added more ducks. Then I got some Guineas. Next I
got some turkeys. At one time I had over 100 chickens, 8 breeds of standard ducks.
6 colors of Guineas and 2 breeds of turkeys. I got my first call duck by mistake and I was hooked on calls. I got more calls from Cindy Rush. I moved from Oklahoma to Arkansas the last of 2019. I sold all of
my birds but kept my calls and a pair of normal Mandarins and
brought them with me. Once in Arkansas my wild species grew. I now raise Mandarins, Ringed Teal, Marbled Teal and Hottentot Teal, also
known as Blue Bill Teal. Plus 16 different colors of call ducks. I've been very lucky in that I've met some amazing people along the way and am proud to call them my friends. Cindy Rusk and
Elizabeth Morgan have encouraged me to start to show. I am willing
and ready to do so. My hold back once again is my job. I can't wait to change things so
that I can get out there and show off some of my babies. Here is just some of my waterfowl.
Cindy Rusk – Missouri 
Hi My name is Cindy Rusk. I've been raising poultry for 12 yrs I got started later in life and wow have I sure missed out .I absolutely love poultry. I raise 14 different colors of waterfowl and I raise Cornish, Shamo, Golden and Buff Sebrights , Serama , Ohiki , Kiriki, laughing chickens and long crowers chicken breeds! I have also mentored several youth and have donated to several shows for awards .I love raising birds and have been showing for 10 years . I've traveled to several shows and have met some wonderful people and have made some great friends . I also raise Royal Palm Turkeys, Brown and Buff African Geese , Pigeons , and Toulouse Geese as well.
My advice to new Adults, and Youth as well, is to never give up . Pick a bird that you really enjoy and run with it. Never be afraid to ask questions . We have all gotten advice from others when we started out . You can learn so much from seasoned Breeders. Just always remember its a hobby . If you show you might win some and loose some but always make it fun .
Mia Beaulieu – CT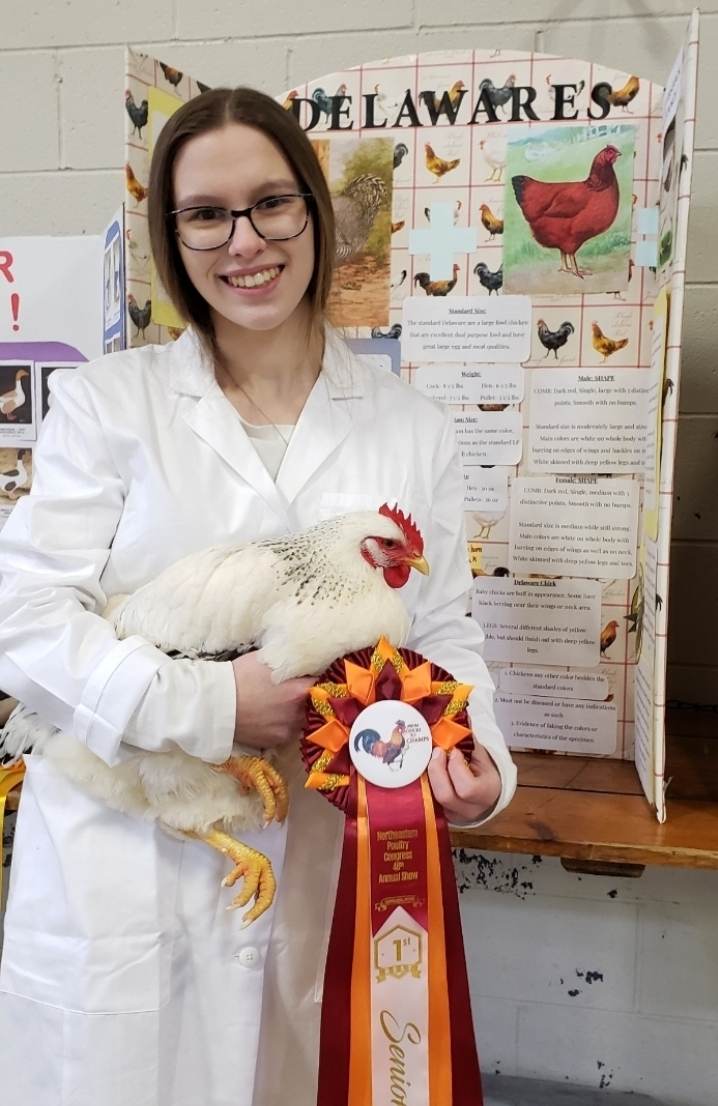 Hi there Tarah! I'm currently 18 and a 2022 graduate of an agricultural high school where I studied animal science. I am now a pre veterinary student at Uconn where I'm head herdsman of the poultry sector. I am curranty compiling a syllabus and educational content for next year's freshman regarding poultry husbandry, anatomy, systems and showmanship. Along with college, I am a part time veterinary technician at a mixed practice named Fenton River Veterinary Hospital. At this hospital, I have the privilege of being frequently consulted for my poultry health knowledge by my doctoral colleges. As of 2021, I breed large fowl Delaware's, of which there are an estimated 1000 breeding birds in the United States. I selected this breed because I want to make a positive impact on heritage poultry, and this was a bird not terribly far from extinction only a few years back. They are also beautiful, hardy and dual purpose. Additionally, I am starting a side project of breeding Bourbon Reds because I would really like to see more Turkeys in the show world. I am currently working under the wing of Dan Castle to hopefully become a licensed APA/ABA judge before I finish my undergrad and travel west for Vet school. I have been showing poultry in 4h as of 2016, but didn't compete in my first APA/ABA show until 2019 when I attended Boston for the first time and immediately fell in love with the showroom. Since then, I have been competing in showmanship at every show I attend, and this year, I had the honor of receiving the title 2022 Ohio National Senior Showmanship Champion.
I would love to be an advocate for other young woman who are interested in poultry.
Mia Beaulieu – CT